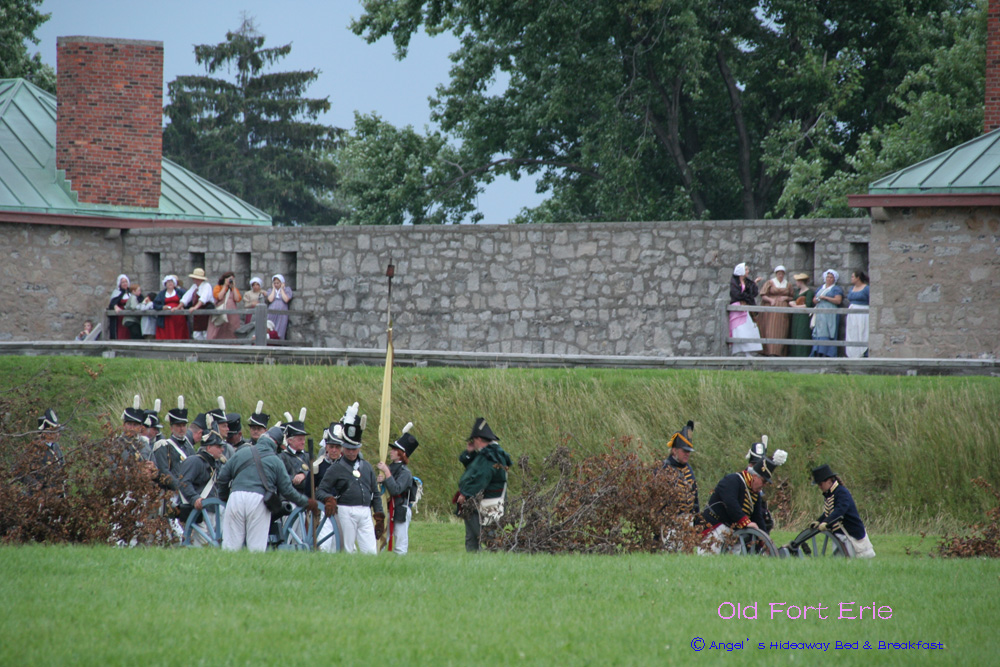 Date: Aug 06-07, 2011
Time:
Location: Old Fort Erie
350 Lakeshore Road
Fort Erie, Ontario
905-356-2241
VIEW MAP CONTACT VISIT WEBSITE
The staff and volunteers at The Niagara Parks Commission's (NPC) Old Fort Erie are preparing the final details for the 25th Annual Siege Weekend at Old Fort Erie on August 6 – 7, 2011. Canada's largest battle re-enactment weekend portrays the excitement and drama of the War of 1812 with an action packed schedule of events planned for the entire weekend.
Event highlights include battle re-enactments on Saturday at 11 a.m., 2 p.m., and 8 p.m., where hundreds of re-enactors will participate in Drummond's Night Assault on the Fort. Follow the action up-close and then experience a dramatic Lantern Tour of the Fort under attack at 9 p.m.
A memorial service honouring all of those who fell in battle will be held on Sunday morning at 10:30 a.m. and the last battle re-enactment of the weekend, the American Sortie will be held on Sunday at 1 p.m. Please visit www.niagaraparksheritage.com for full schedule of events.
Hours:
Hours: Saturday, August 6 Fort Hours: 10 a.m. to 6 p.m. Battles: 11 a.m., 2 p.m. & 8 p.m.; Lantern Tour: 9 p.m. Sunday, August 7 Fort 10 a.m. to 5 p.m. Memorial Service 10:30 a.m.; Battle 1 p.m.
Admission:Entrance includes Day Programs or Evening Lantern tour. Battles are free. Adult: $12.25 (13+), Children (6-12): $7.95 plus tax, Children under 5 are free.
Located at 350 Lakeshore Road in Fort Erie, Ontario, Old Fort Erie is approximately 30 kilometres (19 miles) or a scenic 20-minute drive south of Niagara Falls and is close to the Peace Bridge from Buffalo, New York. The new Visitor Centre, grounds and the main floor rooms of the Fort are wheelchair accessible.
Old Fort Erie is owned and operated by The Niagara Parks Commission, an Agency of the Government of Ontario. It is NPC's mission to protect the natural and cultural heritage along the Niagara River for the enjoyment of visitors while remaining financially self-sufficient.
25th Annual Siege of Old Fort Erie Schedule of Events
Tours of the Old Fort Erie start at the Welcome Centre, hourly from 10 a.m. – 5 p.m. At 11 a.m. & 2 p.m. guides will escort tours to battle site.
Saturday, August 6
10:00 a.m. Fort and Camps open to the public
11:00 a.m. South Field – Major Buck's Surrender & 'Stars & Stripes' run up
12:00 p.m. Inside Fort – Uniforms of the War of 1812
1:00 p.m. South Field – British Artillery Demonstration
2:00 p.m. South Field – BATTLE
3:00 p.m. Camp Displays
4:00 p.m. Inside Fort – U.S. Artillery Demonstration
6:00 p.m. Fort and Camps will be closed to the public
Saturday Evening
8:00 p.m. South Field – BATTLE- Drummond's night assault on the Fort
9:00 p.m. In the Fort – Lantern tours* – 'After the Battle' see the effects of the Failed British Attack.
*Separate tickets are required and are available at the Gift Shop – regular admission applies. Tours start at the front gate of the Fort.
Sunday, August 7
10:00 a.m. Fort and Camps open to the public
10:30 a.m. Memorial Service at the Monument
1:00 p.m. South Field – BATTLE: 'U.S. Sortie'
2:00 p.m. In the Fort – American Evacuation of the Fort & 'Union Jack' run up
4:00 p.m. Camp closed to the public
5:00 p.m. Fort Closed